An important part of software development is monitoring your project status on a regular basis through reports on test and business metrics. Real time data communication dashboards like Geckoboard facilitate daily automated report generation for software quality assurance using regular data feeds that integrate with project management software, like JIRA.
Let's see why software testing services would do well to use Geckoboard.
The old approach to tracking test and business metrics
Prior to the era of Geckoboard, it was the responsibility of QA professionals to create status reports, commonly with Excel, and update the reports manually, on a regular basis. These spreadsheets would either be ignored or be too tedious to interpret, making it an exercise in futility. Or, the test results would have to be sent daily to the respective stakeholders via e-mail. Separate reports would be required for various stakeholders; for management, it is important to monitor the quality of the product, while the QA team would be more concerned about the pass/fail status of test cases.
As QA team leads will tell you, this translates into crucial time and effort expended on creating reports, which are necessary, but it is a tricky exercise in today's era of distributed teams working in different time-zones.
And now... we have Geckoboard
These are real time data communication dashboards that help in communicating product performance trends using eye-catching visual indicators, like charts and gauges, which display the progress of Key Performance Indicators (KPIs) towards the business goals. In simple language - these are dashboards that use attractive graphics to display the business metrics which update automatically as the data changes.
So, how are they different from Excel sheets and traditional report templates?
Geckoboard offers a variety of custom-made widgets which you can add to your dashboards to help display the business metrics. This makes it easy to design various dashboards - for management and the technical team, for example. Depending on how often the user wants the dashboard to be refreshed, data is pushed on to it using JSON packets.
These data dashboards help management in identifying the KPIs of the product under development.

Geckoboard facilitates more than 100 integrations

which make it easy for non-technical users to create custom dashboards.
I created this dashboard, all in a matter of minutes!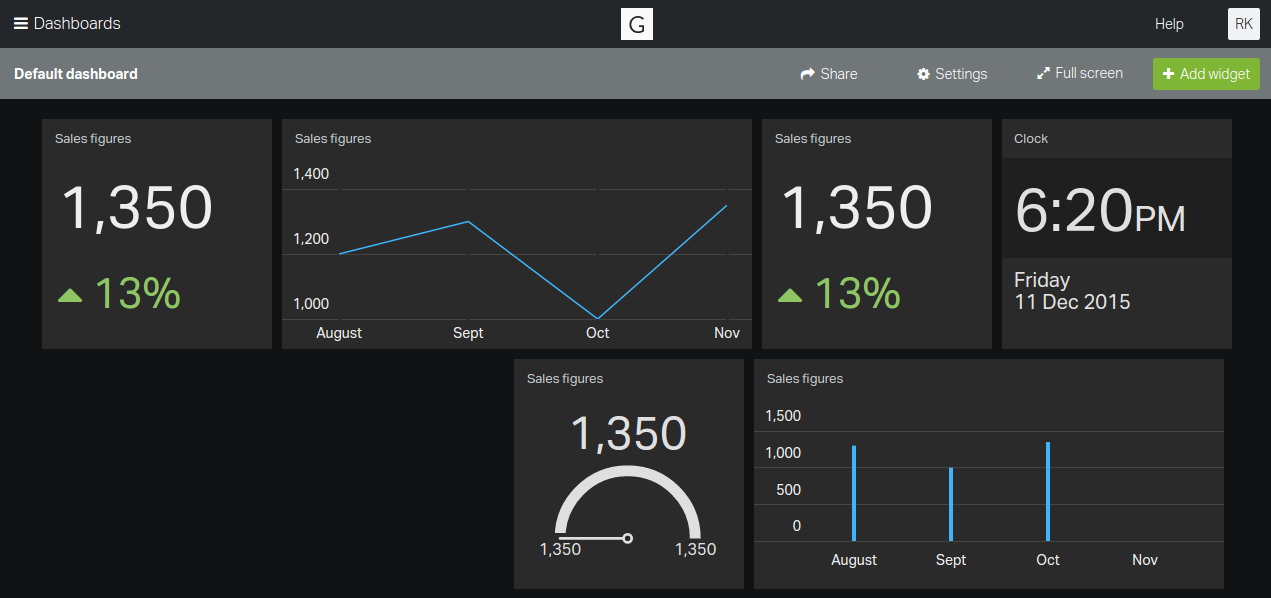 The flexible API of Geckoboard facilitates data visualization using attractive, yet simple custom widgets like line charts, leaderboard, Geck-o-meter and Highcharts.
Geckoboard is limited in that it provides single-bar bar charts only. However, through integration with Highcharts, the user can create multiple-bar bar graphs to reflect more parameters on the X-axis.
It is an accepted industry fact that employees want to be in the know about business performance as a whole; they work better if they can see the achievements of the organization, and the bottlenecks, so that they know what they need to work on. The same goes for management; data dashboards like Geckoboard help them see what's working and what's not. It helps keep the team informed and motivated.
An effective dashboard will display clear, concise and relevant information aimed at a single type of user, it may be QA or management. It is crucial to focus only on the actionable metrics.
Other data dashboards...
With other metrics reporting software like Geckoboard such as FreeBoard, Leftronic, Ducksboard and Klipfolio in the market, business and analytics reporting has become easier and more visually appealing.
Of course, ticketing systems like JIRA do provide dashboards along with the choice of integrating any of a variety of widgets. JIRA facilitates automation of test efforts; however, it displays only limited statistics as it is cannot capture automated test efforts.
It may not make sense for a tester to use Geckoboard for reporting test metrics. They may find the JIRA dashboard more relevant and useful. Geckoboard will be more useful for the delivery manager and the CEO to reflect on business metrics, as they need comprehensive reports, rather than detailed statistics.
Learn more at https://www.geckoboard.com/
Data dashboards like these help the management to keep their focus on the quality of the product under development. Around the world, organisations like the BBC and Decathlon use dashboards not only to monitor the quality of product development in terms of the testing statistics, but also to generate business reports.