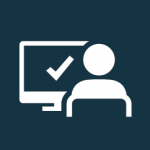 You've launched your application and gained funding to grow your team – well done! Keeping your app functional and bug free as you roll out new features, while also ensuring your user base remains happy and growing, is essential.
Flexible and Efficient
OnPath can jump right in with experienced professionals to help you grow your QA team quickly — ramping up or down as needed in your sprint cycle. This allows you to bring a sophisticated array of testers to any task needed to achieve your goals and meet your timelines. We work with your development team, partnering with them to keep the app stable and bug free as you roll out each new enhancement and improvement.

OnPath Testing is efficient and productive with our time. We examine the QA systems you have in place, from initial discovery, to test planning and execution, through reporting and rollout, and make recommendations what could improve quality and efficiency. We follow best practices and standard processes to deliver you excellence, every time. Our flexibility allows us to seamlessly fold into what already exists, while also uncovering opportunities for improvement.
Exploring Automation
As your app grows in feature set, complexity, and platform support, you will very likely need to consider automation testing to keep up with your test coverage. We have the knowledge and experience to recommend the best test solution for your unique situation, whether customizing an existing framework or building a solution from scratch.
CURIOUS HOW OUR PROCESS CAN WORK FOR YOU?
Schedule a complimentary discovery session with us today.